I recently received a frantic call for help from a dear friend regarding her daughter's recent trauma.
To my surprise, she was practically in tears and did not know what to do! In a trembling voice, while gasping to find the words to explain her circumstance, she finally revealed the reason for her call.
Apparently, after three weeks of wearing a recent sew-in extension, her teenage daughter could no longer bear the throbbing discomfort and begged her mother to remove it.
At first, they both assumed the same—the continuous tension headache was a result of the tracks sown too tight, but little did they know it more to it than they expected. The painful sensation was her body signaling something is going terribly wrong.
After removing the extensions, the young lady was slightly relief from the tension, but not from the horrible sight. Oozing from her scalp was blood, infectious tissue, pus, and excessive scalp build. Both mother and daughter were in tears, shocked, now feared the worst…HAIR LOSS!
Now this is where the desperate phone call to me began.
From the conversation, I assumed the infection was a result of inflammation caused by fungus or bacteria entering the scalp, which can occur from tightly pulled follicles and damaged skin. If left untreated, it could lead to alopecia (hair loss), severe dandruff, and untreatable skin maladies.
Thankfully, they wasted no time by following my instructions to take immediate action. By doing so, they can adequately treat the infected wound to avoid further damages, as well as promote fast healing and healthy hair growth.
Here are a few home remedies/alternative tips below:
Here are a few home remedies/alternative tips below:
PREP
Clean infected area with peroxide or dilute 1 part Listerine to 1 part water, and let soak for about 3-5 minutes.
1. Gently remove excessive scalp buildup with a soft bristle toothbrush.
2. Remove each braid starting from the end, working towards the crown using a medium to large comb or pick depending on the size of the braid.
3. Gently remove dead hair by combing from end to root of hair using pick or comb.
4. After removing braids, ensure hair is detangled and all dead hair are removed. (The average person lose and replace about 80-100 strands per day, so don't be surprised if excessive dead hair is present).
CLEAN
5. Rinse hair/scalp using a mixture of I cup apple cider vinegar with 4 cups of water.
6. Towel dry (never rinse/shampoo hair without removing dead hair) skipping this process can tangle the hair, create knots, unnecessary breakage, and frustration.
7. For deeper cleansing, I recommend shampooing hair with Meobachi African Black Soap.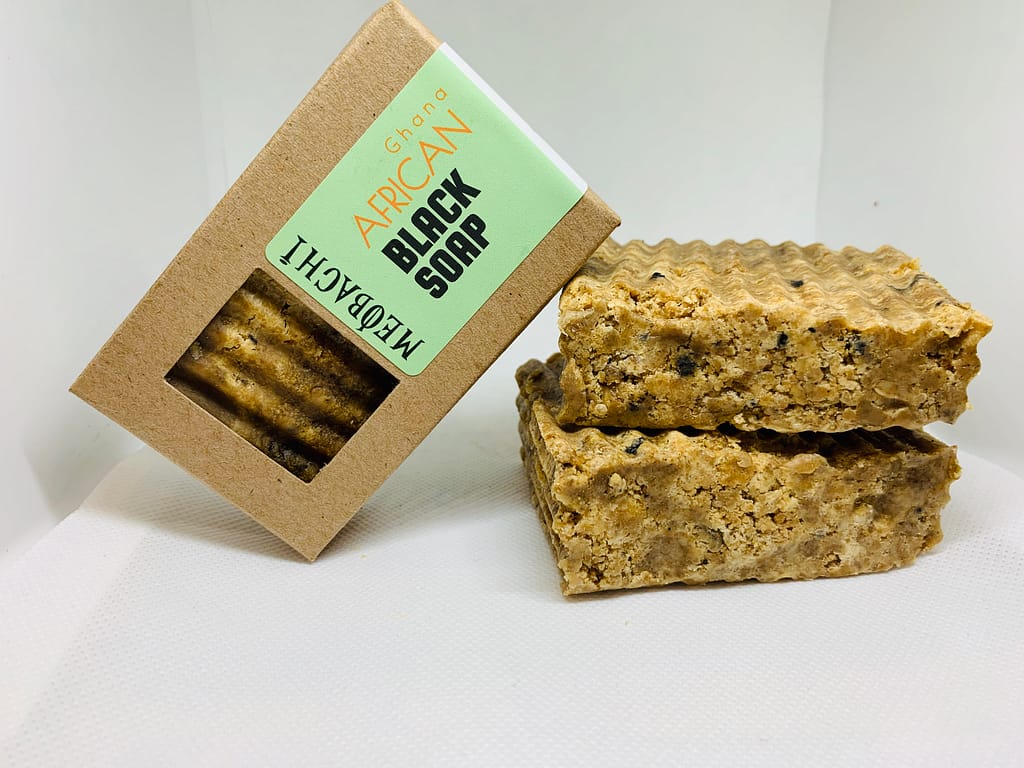 HEAL
8. Apply raw aloe and let scalp dry for one day.
9. Soak 4 cloves of garlic, 10 drops of lavender and rosemary oil extract in 8 ounces of virgin olive oil. (apply each day to promote healing and growth).
10. Continue process 1-2 times per week until recovery is complete.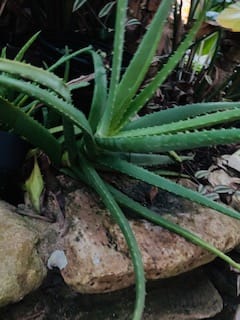 CAUTION
11. Avoid chemical treatments such as colors, perms, relaxers, excessive heat, and unnecessary tugging of the hair while healing.
Within a few weeks the scalp will return to look and feel much better.
She Is Not Alone
What's sad about this scenario is this is not an isolated incident, but a common occurrence amongst females in black communities. And…the reason why many beautiful women and young girls are losing their hair. Often their damages are treatable or sadly become the victim of irreversible baldness (alopecia). What's even sadder, many of these cases could have been avoided and a result of DIY stylists, "kitchenticians (unlicensed hairstylist)," or lack of knowledge, experience, etc.
Over the last 25 years in the beauty industry, I have seen it all. I have also witnessed several women losing practically all their hair from improper hair care. Including, experiencing the shock of an entire head of hair and follicles pulled entirely from the scalp. The woman left the salon practically bald, with only a few strands left in the back (SCARY STUFF). In this case, the cosmetologist failed to perform a proper scalp analysis, which would indicate the client had a preexisting skin disorder that does not permit any extensions.
Further understanding of her disorder would reveal poor air circulation, long periods of tight tension, lack of shampooing, which would contribute to her aggressive hair loss. With proper analysis and consultation, this unfortunate event could have been avoided.
ARE EXTENSIONS BAD OR GOOD FOR ME?
You may be asking the question, "are extensions good or bad?" Well, …let's say it depends on the health of your scalp and who is providing the service. Having a healthy scalp is a must and a necessity for all forms of extension applications. Whether you are seeking simple cornrows, box braids, sew-ins, or infusions, proper hair and scalp analysis are required to ensure you can obtain the service. I do not recommend getting any of these services if you are currently experiencing chronic scalp disorders and injuries such as:
• dandruff
• psoriasis
• seborrheic dermatitis
• ringworm
• lice
• chemical burns
• folliculitis
• eczema
• frequent headaches
• dry, itchy scalp
• sensitive /tender scalp
For this reason, I decided to write an article regarding the growing epidemic of hair loss and scalp disorders amongst our black women and girls and what can be done to prevent it.
Before I close, I want to express how I personally enjoy wearing extensions. They are a great confidence booster and provide the opportunity to experiment with multiple hairstyles. They are Fun and can be low maintenance. Moreover, I love the benefit of not having to worry about my natural hair getting damaged from everyday wear tear, the freedom to exercise, and not looking like "who did it and why" afterward.
While wearing my extension, I can hot curl it, cut it, experimentally dye it with bold colors, lay it to the side when I am done, and start the fun aaaaaaaall over again. But…only if my hair and scalp are healthy enough to withstand another go!
Moreover, I want to repeat; it is essential to have your service conducted by a knowledgeable licensed professional or a trusted specialist who understands how to provide proper hair/scalp analysis and haircare services.
If you have any additional questions regarding haircare, please don't hesitate to contact me via email at sales@meobachi.com. You can also visit my website at meobachi.com. or surf on over to my YouTube channel https://www.youtube.com/user/MEOBACHI for motivational information on how to look and live your best life—one day at a time!
for Guys Who Want to Look Sharp
Annoying, isn't it?
You want to dress better, but most style advice revolves around suiting up or just around whatever's trendy this season.
But that's not what you're looking for.
You just want to make a better first impression on people you meet in everyday life. You just want to look good in your clothes without looking too flashy.
You just want to look like a better-dressed version of you.
And that version of you still likes to keep it casual.
So what you're really looking for is some casual style tips for guys who want to look sharp outside of a suit and tie.
Well, you've come to the right place.
Let's begin…
Simple, sharp and masculine. This is how it's done (except, don't wear your belt like that!)
1. Stop Dressing Like a Boy, Dress Like a Grown-Up
Many men approach their casual style from the wrong angle; they aim to look youthful.
But if you want to look well-dressed, you should always aim to look mature.
Because maturity is an attractive quality in men. Maturity, after all, is what separates the men from the boys. Maturity shows masculinity and commands respect, and it's a quality you want people to see in you.
That doesn't mean you have to dress like your dad. It doesn't mean you have to dress old. It just means you have to avoid portraying yourself as a teenager… Unless you actually are a teenager.
Just to be clear, that means…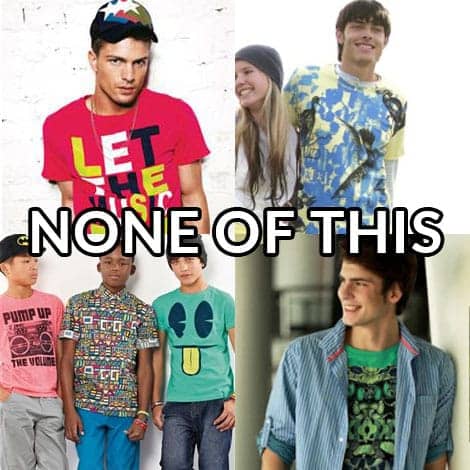 You want to dress like a grown up. Everything overly flashy like the items pictured here simply become inappropriate past  certain age. Funny or cartoony tees are a definite no-go. Wearing a funny tee is basically like being the guy that makes the same joke over and over and over. It might be funny the first time you see the t-shirt, but t gets old fast. Also, avoid anything with slogans.
You want to avoid looking like someone who hasn't grown up yet — someone who's stuck in his past.
You want to stop looking like a boy, and dress like a man.
Don't worry though, I'll give you some more tips on how to do so. Starting with…
2. Give Up the Graphic Tees for a More Mature Look
The first thing you should do to shed your boyish look is giving up your graphic Tees.
I know you love them. I once did too. In fact, I wore them non-stop.
But you want to stop wearing them. You have so many better options.
Despite popular belief, they don't make you look funny, edgy or original. In fact, because every other guy is sporting a graphic tee too, you'll just blend into the crowd.
Plus, people associate them with guys who refuse to grow up. (Remember tip #1? You don't want that.)
Just look at the movies. You'll never see a tough, masculine action hero or a suave rom-com heartthrob wearing a a graphic tee. The only time you'll see a graphic tee is when the character is either a man-child, an actual child, or a slacker.

You don't want people to see you as a man-child, do you? Then be a man, and stop wearing graphic tees.
Instead, opt for solid, one-color t-shirts, striped tees or henleys. Just look at these examples:
Don't you agree these guys look much cooler and more masculine than the ones above? These kinda of t-shirts will make you stand out against an ocean of graphic-tee-wearing men.
You might also consider wearing polo shirts or casual shirts. Just because you're dressing casual doesn't mean you can't wear a collar. And a simple white shirt looks great with a  pair of dark blue jeans, which I'll cover in the next section of this list.